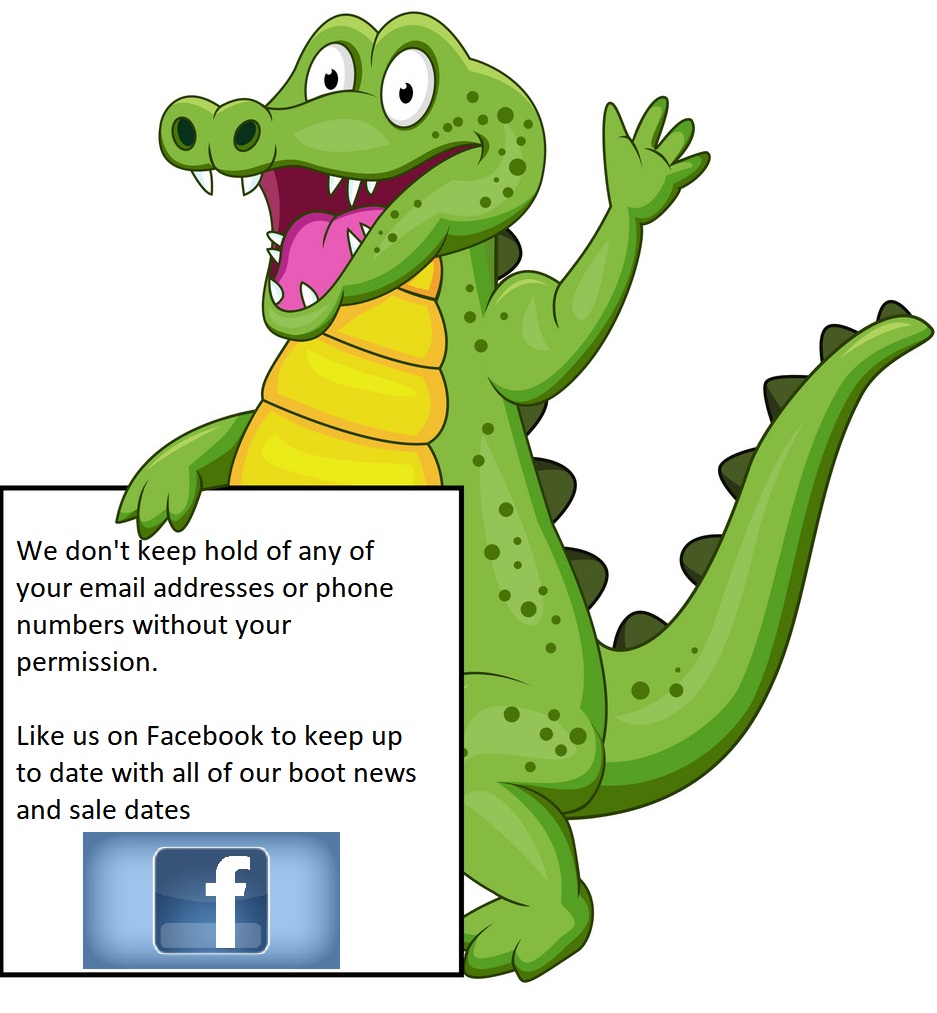 Car Boot Sales should be happy and friendly places.
We have run car boot sales, for 26 years.
It is important to us that our customers should have an enjoyable morning in the countryside.
We try our utmost to welcome everyone and make the Baldock Boot Sale a 'happy sale.'
Many of our customers use the site as a meeting place and over the years many friendships have been formed.

Buyers Should NOT have to pay for parking or entry.
Unlike every other boot sale we DO NOT CHARGE BUYERS.
We believe that if we take money out of their pockets to park or enter then there will be less for them to spend with our sellers.
After all I can go to Tesco in Baldock and am not charged to park or shop so why should my customers? Dogs should be able to shop with their owners!
We welcome shoppers with dogs, although we please ask that dogs are kept on leads at all times, their mess is cleared up and taken away and no dogs are left inside cars on hot days. Please don't leave poop bags hanging in our trees or on the floor!
Do bring your dog!
We care about our surroundings.
We live in the countryside and love it. We like those who love it too!
Please don't drop any litter, it spoils the day and someone else has to pick it up before we leave.

The Environment.
We care about those animals and birds whose home you visit.
Through careful management of the site both during the season and afterwards we have ensured a suitable habitat for birds and animals including Skylarks, Goldfinches, Sparrows, Lapwings, Brown Hares, Muntjacks and Roe Deer.
We also believe:
Politicians are over-paid and not worthy of our vote.

Political Correctness should be assigned to the wheely-bin of life!

Bank Holidays and Summers should be sunny and dry every year.

This country has gone down the plug-hole but we wouldn't want to live elsewhere.
We hope you enjoy visiting us, and come back soon
Farmer Giles.
Why is Mrs Meerkat looking so happy?
Is it because she has just read that the Baldock Car Boot Sales are back on every Saturdayl?
She has been depressed lately as her old man, who seems to have moved into the Hen and Egg just down the road, stated on his way out of the door that he'd be back when the seventeen kids had got jobs and left home!
Oh! and another thing, she's just realised that her secret stash of vodka has been found and emptied. She suspects the kids and will be replenishing it with funds from their piggy-banks.
Or is it because now the kids have gone to school she can slope around the house all day in her altogether? She's already treated the postman and milkman to a glimpse before slamming the door in their faces (and it's not yet 9am!)
Last week she lay sunbathing on the gravel and gave the workmen on the building site opposite a view they'll not forget in a hurry, causing one to fall off the scaffolding and another walk into a cement mixer. She has since been declared a Health and Safety hazard, made an appearance on seven risk assesments and screens have been erected to save the workforce from further injury.
I think it's because her favourite bootsale is back on the 14th of April and she'll be able to leave the kids a note on the table: 'Get Your Own 'Effin Breakfast!' and rush off to a field outside Baldock to drink tea with her friends and treat herself to a bargain or two.
She knows that the Bootsale motto is:
"We all have sh*t through the week and none of us want it at weekends!" She also knows that nobody else can possibly have as much of it as she does through the week!
(She'll not be telling her old man that the car is in the body-shop again. She'll blame the lack of a garden fence on the bin-men or the neighbours or even you! You have been warned…)
Come and join us at our no hassle, one price fits all boot sale. Only £11 per pitch, any size, any vehicle!